Following the success of our events last year we've decided to plan lots more for 2016.
There'll be all sorts of new and interesting things happening that we'll be announcing over the coming months.
In the meantime, make sure you sign-up for our mailing list to be sure not to miss out.

Spring Weekend Yoga Retreat Friday, 21st - Mon, 24th April 2017
Fri 21st – Mon 24th April 2017
From £355 Per Person Sharing
A weekend retreat including meditation, energising morning yoga and restorative evening yoga sessions with time to enjoy the natural surroundings, go on walks, relax in the beautiful walled garden or head for the beach.
Staying 3 nights in the West wing of Wiveton Hall.
Situated on the North Norfolk coast between Blakeney and Cley-next-the-Sea, Wiveton Hall is a dreamy, flint-faced, Dutch-gabled, Jacobean manor house built in the 17th century.
Fully catered for with a delicious vegetarian and whole foods diet – take the chance to unwind, rejuvenate and restore body, mind and soul in this gorgeous setting.
YOGA AND MEDITATION
Each day will begin with a 30-minute guided meditation followed by an energising Vinyasa Flow yoga class. This will awaken the body and warm you up for the day. The evening classes will be more restorative to stretch out tired or tense muscles, helping you to sleep and wake up feeling rejuvenated. This retreat can be a great introduction for beginners to yoga, as well as building on knowledge for those with more experience and who want to challenge and enhance their practice.
ABOUT THE YOGA PRACTICE
Lisa Dunn & Penina Reynolds both teach Vinyasa Flow yoga, a dynamic style of Yoga, where movement is synchronised to the breathe. Each pose connects and flows from one to another to become almost like a dance. The classes, though at times vigorous, are always accessible and modified to the level of the student.  They teach creative and intelligently sequenced classes that include a warm up and a cool down to keep the body safe from injury. The classes are energizing and breath-focused to encourage strength, flexibility and awareness – which will leave you feeling recharged, revived, and centred.
ABOUT THE TEACHERS
Lisa is a 500-hour certified Yoga teacher based in London.  She has been teaching for 6 years and practicing for the past 14.  She completed a 200-hour foundational teaching training and a 300-hour advanced training both with Vidya Heisel of Frog Lotus Yoga and regularly travels the world assisting on Frog Lotus yoga teacher training programmes.  She also teaches Envision Yoga – a transformational Kundalini inspired and Mantra teaching.  Lisa's passion is to encourage and empower students to develop their practice, and to have a safe life- long yoga experience.  She is also trained in Thai yoga massage and will be offering treatments during the retreat.
Penina has been practicing yoga for 25 years and is based in Norfolk. In 2015 she completed a 200-hour yoga teacher training also with Frog Lotus Yoga. "With yoga in my life I feel expansive, aware, connected, fluid, strong, dynamic, vibrant and alive. Yoga softens and strengthens as the meditation grows. Watching this process in myself and my students is really inspiring."  Penina is also a Shiatsu practitioner and will be offering Shiatsu sessions during the retreat.
OUTLINE OF YOGA WEEKEND
Friday
Arrive from 3pm
5pm Welcome circle
5.30-7pm Gentle Yoga Flow
7.15pm Dinner
Saturday
7am Meditation
7:30 – 9am Vinyasa Flow Yoga
9:15 Breakfast
10am – 1pm relax and free time (massage treatments available)
1:30pm lunch
2:30- 5:30pm Relax and free time (massage treatments available)
5.30 – 7:30pm Restorative yoga & Yoga Nidra (yogic sleep – a deep form of meditation)
7.45pm Dinner
Sunday
8:30am Meditation
9-10:30am Vinyasa Flow Yoga
11am Brunch
12pm – 4:30pm Relax and free time (massage treatments available)
4:30 – 7pm Envision Yoga Session –  A practice to manifest and embody your
fullest potential.  In the workshop you will work through the chakras (energy centres in the body), stimulating each one with Kundalini yoga. Through the use of self-created mantras and partner work, it will allow you to reprogram yourself to effect radical transformation in all areas of your life.
7:45 Dinner
Monday
8 – 8:30am Meditation
8:30 – 10am Vinyasa Flow Yoga
10:15 Breakfast
12pm Closing circle
12:30pm Depart
ACCOMMODATION
Wiveton Hall's west wing can sleep up to 9 people in a dorm, twin and double rooms. Set in lovely gardens with sea and country views it is the perfect weekend retreat escape.
FOOD
Mainly plant-based super foods. No meat, fish or processed foods on the menu! Harness the power of a whole food and vegetarian diet
EXAMPLE RETREAT MENU:
Before yoga: Hot lemon turmeric, ginger & rosemary to stimulate the digestive system and alkalise the blood.
Breakfast: Bircher style muesli, fruit salad bowl, tomato, avocado & coriander salad, eggs and Gluten free toast.
Lunch: Broccoli, Pea & Basil Soup with Green Salad & Fennel, Apple and Red Cabbage Slaw
Dinner: Courgette and Aubergine Curry with Cauliflower Rice
Broccoli, Ginger and Chilli Salad
Dark Chocolate Mousse with Saffron & Honey Poached Oranges
WALKING AND TRAIL RUNNING
Lisa and Penina can advise you on the best walks and runs along the beautiful north Norfolk coast. The terrain is varied and the scenery is stunning. Take a slow paced run to fully enjoy the environment and soak up the surroundings!
THE LOCAL AREA
Wiveton Hall is less than 1 mile from Blakeney, one of the most enchanting coastal villages along the north Norfolk coast. Here you can browse in local shops and cafes, or take a ferry trip (depending on tide times) to see the seals and stop off at Blakeney point, a spectacular nature reserve with uninterrupted views of the beautiful coastline. Or take a 20-minute drive to Holkham Bay, listed as one of the world's most stunning beaches, where you can relax, walk and swim. www.northnorfolk.com
TESTIMONIALS FROM PREVIOUS RETREATS
Karen Moore – Yoga's best-kept secret? A weekend retreat at the beautiful and quirky Wiveton Hall in North Norfolk with the inspirational duo Lisa and Penina. I literally have never enjoyed or learnt so much in a single weekend. Fabulous evening candlelit yoga class, morning meditation, unbelievably delicious food, heavenly massages. Honestly as close to total perfection as it would be possible to achieve, I feel incredibly blessed. Take my advice if you see a course offered by these lovely ladies, sign up quickly!
Clare Coxon – What an inspirational weekend! The place, the people and the practice were a unique combination and it has given me permission to nurture myself and reignite my yoga practice. Loved everything about it and I just really hope and pray that I can come back to Wiveton for another retreat. Lisa and Penina are wonderful, warm and really fun as well as teaching a fantastic yoga practice!
Dorte Hoffman – Thank you once again for a marvelous weekend, equally educational, strenuous and inspiring. Lisa and Penina are a very harmonious duo; very different characters/personalities, but complementing each other just right!
Ellen Jolly – I loved the weekend.  As a complete beginner I had no idea what to expect. Whilst very challenging, my first yoga experience was very rewarding. Lisa and Penina helped and cared for me through the process, and the gentle kindness of the entire group created an emotional connection for us all.   The venue at Wiveton Hall was amazing; it felt like a set for an Agatha Christie film!
Tracy Thompsett – This was my first experience of yoga and I have had such an amazing time. We felt so looked after and spoilt for the whole weekend. I cannot wait to continue my yoga venture and thank you from the bottom of my heart for starting me on my journey.  I'll see you in April and cannot wait!
INCLUDED IN YOUR RETREAT
3 nights stay
3 morning energising yoga classes
2 evening restorative yoga classes
3 meditation sessions
1 Envision Yoga Workshop
Optional guided walks
All meals throughout the retreat
Teas and Coffee
NOT INCLUDED IN YOUR RETREAT
Travel to Wiveton Hall
Massage
HOW TO FIND WIVETON HALL
Holt, Norfolk. NR25 7TE
https://goo.gl/maps/NRGtU1LvhLK2
Terms & Conditions
£100 deposit is required to secure your place on this fantastic retreat.
Payment Terms & Conditions: A non-refundable deposit is required to secure your place, the remainder is due no later than 3 weeks before the start of the retreat, for which you will receive an invoice. If your payment is not received 3 weeks prior, your place will be offered to another. In the event of cancellation: 30 days or more prior to the retreat: Your entire payment will be refunded, less £100 which is your deposit. 29-15 days prior to the retreat: Payments are not refundable, but are transferable (less £100 deposit) to a future retreat. 14 days or less prior to the retreat: Payments are not refundable.
For more information and booking form please contact:
Lisa at lisadunn43@gmail.com or Penina at peninareynolds@yahoo.com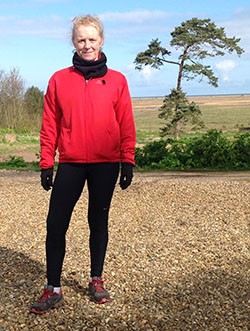 Power Walking with Gini Harrison
Every Wednesday
This is a brilliant way to exercise along the beautiful North Norfolk Coast. Please meet at the café where afterwards you'll have the perfect excuse to have a slice of cake and a cup of coffee after your invigorating walk.
Gini is a qualified Sports Therapist, Nordic and Power Walking Instructor and a British Wheel of Yoga Teacher.
Power Walking strengthens the whole body and helps you to make the transition from a leisurely walk to a speedy pace.  This enhanced exercise builds strength and stamina throughout your upper body as well as your core muscle groups. You work up to 90% of your skeletal muscles and burn up to 50% more calories than with normal walking.
Advanced Group 8.45am – 9.45am
You must have had at  least one year's experience of power walking to join this group
Beginners Group 10.15am – 11.15am
No previous experience required
Beginners Introductory package of 6 sessions for £45/£10 per person drop-in price
Block of 10 sessions for £80.00
Please wear loose fitting, comfortable clothes and trainers – no flip flops or wellington boots …
Call Gini on 07917 350080 or 01263 741265 for more details