Past exhibitions
Below is a list of previous exhibitions at Wiveton.
The café will continue to have regular exhibitions and there will be more happening in the Art Barn this year.
Sign-up for our mailing list to make sure you get information on the forthcoming exhibitions and invites to all the private views.
---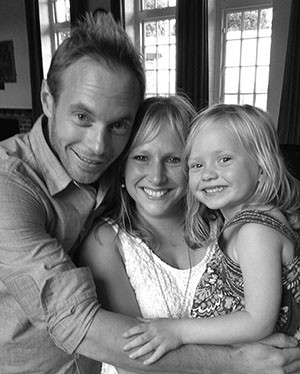 Molly Garnier
Monday 28th September to Sunday 8th November 2015
Although she graduated from Edinburgh College of Art in 2003, Molly Garnier is truly one of East Anglia's own. Before setting off to art college, she was schooled at Gresham's in Norfolk, and soon returned to live on the beautiful North Norfolk coast to start a family after living in Edinburgh for 9 years.  She gained a BA First Class Honors Degree and immediately began her career as an artist exhibiting in galleries throughout the UK.
Originally known as a figurative painter, she became well-known for her small smoky oil paintings of the female nude, playing on the subtleties of light, colour and depth.  Since her return to North Norfolk, she has used her beautiful control of light to capture the distinctive, slightly bleak colours of that lovely coastline.
Molly has won a string of awards and prizes, including a Young Artist Award at the huge National Lynn Painter-Stainers Competition at the Painters Hall in London in 2006, opening lots of doors in the art world.
Molly exhibits extensively throughout the UK and regularly as a solo artist at The Appleyard Gallery in Holt and The Lime Tree Gallery in Suffolk and Bristol.  She is also represented by The Market House Gallery in Marazion, Devon and has exhibited in a string of galleries including The Northcote Gallery in London, The Collyer Bristow Gallery in London, The Scottish Gallery in Edinburgh, The Royal Scottish Academy in Edinburgh, The Compass Gallery in Glasgow and The Mall Gallery in Devon.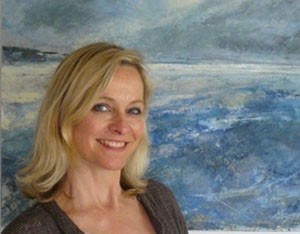 Tracey Ross
Monday 31st August to Sunday 27th September 2015
Tracey's work celebrates the beauty of creation — drawing inspiration from the huge skies and ever–changing light and atmosphere of North Norfolk. Capturing the energy of nature and a sense of joy when painting this wonderful coastline are important aspects of her work.
Tracey studied textile design and went on to complete a Visual Studies degree at Norwich University of the Arts. She is a member of the Norwich 20 Group and participates in the annual Norfolk Open Studios. Tracey holds creative art workshops and offers private tuition in north Norfolk. Her work is held in private collections both here and abroad.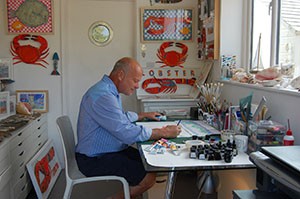 Andrew Ruffhead BA (Hons) Dip CSAD, MA FCSD
Monday 27th July to Sunday 30th August 2015
Andrew studied Painting & Printmaking at Brighton Polytechnic, and then Printed Textile Design at the Central School of Art & Design. He has worked for many years as a textile designer producing fashion, furnishing fabrics and wallpapers for companies such as Osborne & Little, Designers Guild and Calvin Klein.
Andrew has taught at Chelsea School of Art, Worthing, Loughborough College of Art & Design, and was Head of the Printed Textile Department at the University of East London for fifteen years until 2005. He has also worked for the National Institute for Design in Ahmedabad (India) NIFT ( National Institute of Fashion Technology) based in New Delhi, and The National Institute for Design ( NID) in Ahmedabad.
Andrew is a Fellow of the Chartered Society of Designers, and a former chair of the Fashion Textile Discipline Group. He continues to exhibit his work in many galleries in the UK, and in 2006 he was made a National Lottery Artist, and was commissioned to produce a large lino-print, which is on display in the foyer of the Cromer Museum in Norfolk. He had one of his cyanotype prints Cactus Corner on show at the Royal Academy Summer Exhibition in 2011.
Andrew moved to Burnham Market in 2006, and opened his studio/gallery Fish & Ships Coastal Art producing prints, quirky coastal maps, cards, cyanotype photography, pen, ink and gouache drawings and paintings, and lobsters, crabs, whales, prawns and fish made from driftwood and pieces of old marsh and beach-found boats. He is particularly interested in recycling found objects, and as well as work available to purchase in the gallery and from his website, he is very happy working to commission.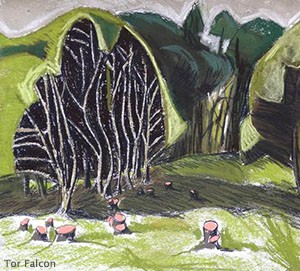 Group Show: Tor Falcon, Sara Freakley, Margot Huston, Mary MacCarthy, Chloe Mandy & Susannah Penrose
Sunday 7th June until Sunday 26th July 2015
Tor Falcon is a landscape artist from Norfolk. She works quickly in pastel, outside in her subject matter. She is currently spending a year drawing The Peddars Way and will be showing the work at Abbott & Holder in London, in March 2016. You can read her blog, about her progress along The Peddars Way, by going to her website.
www.torfalcon.co.uk
Sara Freakley originally trained as a furniture designer and taught for many years in secondary and higher education. For the last eight years she has devoted her time to painting, mainly in oil. She has exhibited at the Eastern Open, had two solo exhibitions with the Bircham Gallery and a recent exhibition at Creake Abbey. Most of her paintings start with something seen but then become infused with a specific thought or feeling. Journeys and movement, perhaps across a landscape or from one 'state' to another, are ones to which she frequently returns. Although the origins or meaning of her pictures may not be obvious, Sara hopes the viewer will find them thought provoking and engaging.
Margot Huston studied art at Shrewsbury Art College and John Cass College of Commercial Art. Her landscapes and compositions are based on the natural forms found on the beach and the ever-changing coastal light of North Norfolk. She paints in oil, watercolour and mixed media.
Mary MacCarthy studied Textile Design & Fine Art at Camberwell School of Art & Design. After 25 years of design and decorative work, she turned to mural painting (teaming up with Susannah Penrose). She has always drawn and painted a variety of subjects from garden flowers and veg to landscapes and scenes from travels. Mary has had three exhibitions in the café, and is currently working towards an exhibition at Creake Abbey in September.
www.mary-maccarthy.co.uk
Chloe Mandy graduated from the State University of New York (Purchase College) with a Bachelor of Fine Arts and an award for outstanding painting. After moving to Spain where she painted and exhibited widely, she was shortlisted for the Premio de Palma Young Artist Award. She has exhibited in Spain, New York and England, and currently lives and works in Norfolk. She has undertaken numerous commissions, including a painting of Ruby Wax's children, and several major works for Swiss banks. Chloe has exhibited in Norwich Castle, The Forum, and the Kings Lynn Art Centre she is represented by galleries in Norfolk and London.
www.chloemandyart.com
Susannah Penrose was born and brought up in Norfolk, Susannah studied fine art at Bath Academy of Art, and The City & Guilds College of Art, London. Since graduating in 1984, she has been working as an artist. For over 30 years she has been the artist and colour matcher for restoration teams country-wide including the ceilings at Chatsworth and the restoration of Charleston Sussex. She has continued to paint in her own right throughout and has exhibited widely. She also paints murals and has had a variety of commissions from private houses to a ceiling at the Cafe Royal, London. Now back on the North Norfolk coast and painting full time, she takes commissions for paintings, and for murals with Mary MacCarthy.
www.susannahpenrose.co.uk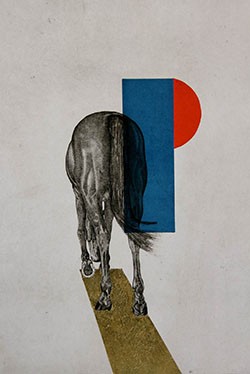 Guy Allen
Saturday 20th June - Sunday 5th July 2015
After a successful first solo exhibition in London with Grandy Art last year, Guy is bringing his portfolio of etchings back to his home county this June for a solo exhibition in the Wiveton Hall Art Barn.
With distinctive style and striking ability, Guy continually experiments with his approach; combining etchings with lithography, linocut, aquatint and gold-leaf, adding colour, texture and a more tonal quality to the work.
Guy quickly established a reputation for exceptional draftsmanship. Having originally focused on animals as his subject-matter, above all he credits his artistic inspiration to his Norfolk roots, from his animal subjects to the more abstract forms, patterns and compositions scattered within and around the landscape.
In 2012 Guy trained as an assistant print maker at Curwen Studios, Cambridge. He has since moved to London and is now working as a full-time artist at Artichoke Print Studio, Brixton.
Guy has been accepted by the Royal Academy for their highly selective Summer Exhibition for the last two years and is represented by Grandy Art.
If you would like an invertation to the private view on Friday 19th June, please contact Guy directly.
07500 877816          info@guyallenart.com          www.guyallenart.com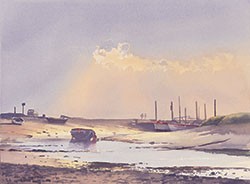 Godfrey Sayers
Sunday 26th April until Sunday 7th June 2015
Godfrey has had a number of one-man shows in London as well as being one of Mandell's regulars for many years. Although his work is distributed around the world it is most thickly spread throughout East Anglia and for him the greatest compliment, and his greatest satisfaction, is that so many of the young people of this coast buy his work so they can take a little of their heritage with them where-ever they go in the world.
His new book Once Upon a Tide is currently one of the county's best sellers. It recounts his life as a fisherman and painter working within the ever-changing world that lies between the sea and its furthest reach along the north coast of Norfolk. Copies of his book are available in our shop.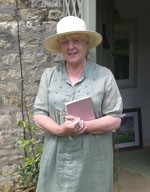 Pat Bustin
Thursday 26th March until Sunday 26th April 2015
Pat has been painting her expressionist landscapes of North Norfolk for a number of years. Based in Burnham Deepdale and in Lowick, Northants, Pat paints in acrylics, pastels and oils using brush strokes to create movement and colour boldly for the emotion of the moment. Most of Pat's work is carried out plein air. Her studio work is based on detailed drawings and initial sketches during walks along the Norfolk coast using a wide range of media, large canvases and enlivening colour.
07792 9260071          patbustin@btinternet.com          www.patbustin.co.uk