Current art exhibitions
2017 Artists to be confirmed soon
Art is an important part of Wiveton.
The café and the Art Barn exhibits local artists throughout the season.
Sign-up for our mailing list to make sure you get information on the forthcoming exhibitions and invites to all the private views.
If you are interested in exhibiting your work, please email Desmond MacCarthy

EXHIBITED IN 2016
"SCAPEGOAT" by Annabel Bluesky
Wednesday, 23rd March - Sunday, 24th April 2016
Annabel Bluesky has always been behind the camera. She won a scholarship for Photography at the London School of Printing back in the 90s and then worked in London running a commercial studio in Shoreditch for a number of years before changing direction to Fine Art Photography completing an MA at the University of the Arts.
For this exhibition Annabel presents a collection of photographs to open the Wiveton Hall Café`s 2016 season entitled SCAPEGOAT. In many cultures for centuries the Goat has been the main object of sacrifice, and thus cleanser of sins. Annabel investigates this deep seated notion of redemption. These statement portraits of goat heads, demonstrate they are in fact just goats.
In the outer foyer area, Annabel shows a very different set of her favourite local landscapes, many taken at Wiveton Hall over the year 2013 – 2014 through the seasons. Her favourite time of day is early dawn and late dusk when it is quiet, these photographs observe a peaceful serenity even within the familiar and the unremarkable. She works from London and Salthouse.
Ann Payne
Monday, 25th April - Sunday, 22nd May 2016
Shortly after I was born I started to draw and paint and have continued on and off ever since. My training was at the Byam Shaw Art School which was rigorous and academic.
Over the years I have been interested in many subjects and I have had exhibitions of animal drawings and figure paintings at galleries in Norfolk and London.
Living in North Norfolk near the coast, the sea has been a great attraction and I have spent many happy hours sitting in Morston mud drawing sea, sky and boats in the changing light. Some of the paintings are influenced by other places I have visited in the Mediterranean. It is a wonderful and everlasting subject.
Mary MacCarthy
Monday, 23rd May - Sunday, 26th June 2016
Information to follow soon.
Tor Falcon - The Peddars Way
Monday, 27th June - Sunday, 31st July 2016
The Peddars Way runs from Knettishall Heath, south-east of Thetford, through Norfolk to the coast at Holme-Next-the-Sea. Thought to have been built by the Romans two thousand years ago, it is an almost straight pathway. It runs through the emptiest part of Norfolk, running counter to all the main east-west routes, from the strange landscape of Breckland to the rolling chalk lands of north-west Norfolk. To walk the Peddars Way is to take a step away from everyday life.
"I have glimpsed the Green Lane of the Peddars Way as it crosses roads I have driven time and again. It has always been just north or just south of my consciousness. I was aware of its existence but knew nothing of its unique loneliness. In the spirit of a small adventure and of getting to know my home county differently and better, I spent a year walking on and drawing along the Peddars Way. I drew this compelling and unfamiliar landscape as a way of understanding it. I made a book of my walking drawing year. It is a companion to the Peddars Way. It includes everything I found of interest on my journey. I made each drawing on my walk on site at one sitting. They are a record of what I found that interested me at a particular place on a given day. In all I made forty-one drawings of the forty-nine miles of the Peddars Way."
Tor Falcon studied fine art at Norwich School of Art. She lives and works in Norfolk not far from the Peddars Way.
These pastel chalk and charcoal pictures on paper are a selection from the forty one drawings Tor Falcon made along the Peddars Way. They are for sale for £650.00 framed. Tor's book 'Peddars Way A walk with chalk' is available in the Wiveton Hall Shop for £16.00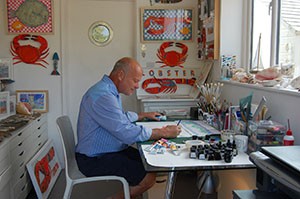 Andrew Ruffhead - BA (Hons) Dip CSAD, MA FCSD
Monday, 1st August - Sunday, 28th August 2016
Andrew studied Painting & Printmaking at Brighton Polytechnic, and then Printed Textile Design at the Central School of Art & Design. He has worked for many years as a textile designer producing fashion, furnishing fabrics and wallpapers for companies such as Osborne & Little, Designers Guild and Calvin Klein.
Andrew has taught at Chelsea School of Art, Worthing, Loughborough College of Art & Design, and was Head of the Printed Textile Department at the University of East London for fifteen years until 2005. He has also worked for the National Institute for Design in Ahmedabad (India) NIFT ( National Institute of Fashion Technology) based in New Delhi, and The National Institute for Design ( NID) in Ahmedabad.
Andrew is a Fellow of the Chartered Society of Designers, and a former chair of the Fashion Textile Discipline Group. He continues to exhibit his work in many galleries in the UK, and in 2006 he was made a National Lottery Artist, and was commissioned to produce a large lino-print, which is on display in the foyer of the Cromer Museum in Norfolk. He had one of his cyanotype prints Cactus Corner on show at the Royal Academy Summer Exhibition in 2011.
Andrew moved to Burnham Market in 2006, and opened his studio/gallery Fish & Ships Coastal Art producing prints, quirky coastal maps, cards, cyanotype photography, pen, ink and gouache drawings and paintings, and lobsters, crabs, whales, prawns and fish made from driftwood and pieces of old marsh and beach-found boats. He is particularly interested in recycling found objects, and as well as work available to purchase in the gallery and from his website, he is very happy working to commission.
Eliza Stimpson
Monday, 29th August - Sunday, 25th September 2016
Eliza studied Fine Art & Art History at Plymouth University; graduating in 2015, and has since returned to North Norfolk to continue painting naturalistic scenes and botanical forms in oils. Eliza initially began painting impressions of hedgerows and wildflower scenes, embracing the chaos of their depth and exploring the placement of colours.  As this style developed, she began to zoom in to those scenes and apply the same process but to a single form, admiring the notion of Botanical Illustration and the enhancement of a form as a result of its placement upon a blank background.
Her current focus follows a theme surrounding the Fine Art of Botanical Illustration; a contemporary idea that considers the concept bound to an art form, previously scientific and meticulous in process.
www.elizastimpson-fineart.weebly.com
Beachwatch - exhibition by Hugh Pilkington
September - October 2016
BEACHWATCH
An Exhibition
Wiveton Hall
Did you lose a shoe on the North Norfolk Coast last year?
We probably have it!
Daisy, we have your coffee cup
Samantha Turner, we've found your balloon
Norman Chigumadzi, we have your rucksack
Twice a year The National Trust organises a rubbish collection along the North Norfolk Coast from Blakeney Point to Cley Beach. Volunteers collect 'jetsam' (items thrown into the sea) except for wood, which is left as wildlife habitat. All 'flotsam' (washed up natural material) is left on the beach. The rubbish is collected into black sacks that are brought to the Trust's office in Blakeney before being sent to landfill.
The two most recent Beachwatch collections- undertaken in September 2015 and March 2016- yielded more than one hundred sacks of rubbish. Instead of being sent directly to landfill, the contents were sorted by hand. Organic rubbish was disposed of in landfill. Tin cans, plastic bottles, glass bottles, plastic bags, plastic containers, tetra packs, metal and large hard plastic items were sorted and recycled. Retained items are arranged and displayed as an exhibition before being sent for recycling.
This exhibition draws attention to the huge amount of jetsam in the sea and is an exercise in aestheticising the unaesthetic.
Beachwatch is an exhibition by Hugh Pilkington.
The exhibition may be seen by taking the Wiveton Hall Garden Walk. It will run until the end of the season.
Ger A Elwood
Monday, 3rd October - Sunday, 30th October 2016
Ger A Elwood is an Irish artist, living and working in Norfolk. She has a strong affinity with the texture of paint finding it the freest mediums to express herself.
Her paintings are a concentration of abstracted coastal compositions of rhythms, moods, memory and the colour of maritime Norfolk and her native West of Ireland peninsulas.