Art is an important part of Wiveton.
The café exhibits local artists throughout the season.
If you are interested in exhibiting your work, please email Desmond MacCarthy

 Current art exhibitions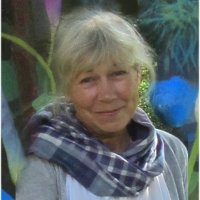 Thelma Chambers C.F.A. Oxford M.A. Royal Academy Schools
Thelma was born in England and trained as a fine art painter at the Ruskin School of Drawing and Fine Art, Oxford University.  As an award-winning scholar, she then attended the Royal Academy Schools, London, for her Master's degree.
Her training was "classical" in relation to traditional practice including painting and drawing techniques,  methods and materials, design and theories etc.
Thelma has painted and drawn since early childhood. She uses traditional oil paint on board or canvas, and also pure pigment and size (distemper).  I mix the colours myself and add gouache and sometimes Casein ( all compatible) to create images which have an unusual quality of colour. The pigments come from a variety of sources, metals, chemicals, the earth and stones.
Since 2016 Thelma moved back to the U.K from  Southern Ireland and now lives and works in East Anglia, painting landscapes out in the fields and this year she begins a new series of flower and fruit paintings from her garden and in her studio. 
" I work from real life observation, rather than photographs or memory because otherwise there simply isn't enough information and I don't enjoy making things up. I find real life far more surprising, varied, wondrous
and joyful than anything I could imagine. My work is a celebration of the beauty I see in the natural world around me."
A full C.V. is available on the website. Please feel free to contact me via the website: https://www.thelmachambers.co.uk  or at  tamtam@eircom.net   for more information
LINKS
  https://www.thelmachambers.co.uk         and     http://thelmachambers.blogspot.co.uk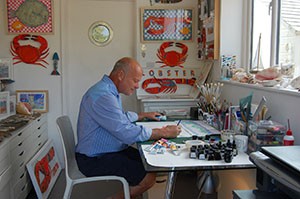 Andrew Ruffhead BA (Hons) Dip CSAD, MA FCSD
Andrew studied Painting & Printmaking at Brighton Polytechnic, and then Printed Textile Design at the Central School of Art & Design. He has worked for many years as a textile designer producing fashion, furnishing fabrics and wallpapers for companies such as Osborne & Little, Designers Guild and Calvin Klein.
Andrew has taught at Chelsea School of Art, Worthing, Loughborough College of Art & Design, and was Head of the Printed Textile Department at the University of East London for fifteen years until 2005. He has also worked for the National Institute for Design in Ahmedabad (India) NIFT ( National Institute of Fashion Technology) based in New Delhi, and The National Institute for Design ( NID) in Ahmedabad.
Andrew is a Fellow of the Chartered Society of Designers, and a former chair of the Fashion Textile Discipline Group. He continues to exhibit his work in many galleries in the UK, and in 2006 he was made a National Lottery Artist, and was commissioned to produce a large lino-print, which is on display in the foyer of the Cromer Museum in Norfolk. He had one of his cyanotype prints Cactus Corner on show at the Royal Academy Summer Exhibition in 2011.
Andrew moved to Burnham Market in 2006, and opened his studio/gallery Fish & Ships Coastal Art producing prints, quirky coastal maps, cards, cyanotype photography, pen, ink and gouache drawings and paintings, and lobsters, crabs, whales, prawns and fish made from driftwood and pieces of old marsh and beach-found boats. He is particularly interested in recycling found objects, and as well as work available to purchase in the gallery and from his website, he is very happy working to commission.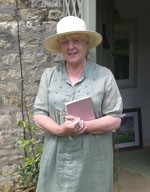 Pat Bustin
Pat has been painting her expressionist landscapes of North Norfolk for a number of years. Based in Burnham Deepdale and in Lowick, Northants, Pat paints in acrylics, pastels and oils using brush strokes to create movement and colour boldly for the emotion of the moment. Most of Pat's work is carried out plein air. Her studio work is based on detailed drawings and initial sketches during walks along the Norfolk coast using a wide range of media, large canvases and enlivening colour.
07792 9260071          patbustin@btinternet.com          www.patbustin.co.uk