Art is an important part of Wiveton.
The café and the Art Barn exhibits local artists throughout the season.
If you are interested in exhibiting your work, please email Desmond MacCarthy

 Current art exhibitions
Collective - Mary MacCarthy, Pat Bustin, Andrew Ruffhead, Mike Thody, Susie Penrose and Pamela Noyes
2nd May - 2nd July 2017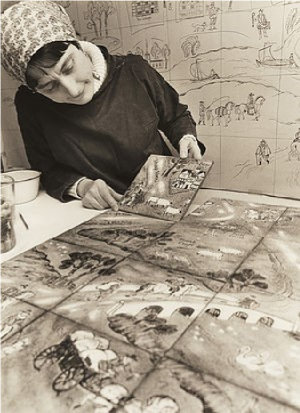 Christina Sheppard
2nd July 21st July
Christina was born in Cley Next the Sea, Norfolk in 1932.  Both her parents, Clare and Sydney Sheppard, were artists and she attended her first life class in Paris at the age of six.
Subsequent studies took place at Camberwell School of Art 1951-1953 under Edward Ardizzone.
At Chelsea School of Art 1953 -1954 studied for a National Diploma of Design in book illustration.
After some freelance illustrating, Christina became interested in pottery, particularly in the decorative side and undertook commissions for tiled fireplaces, kitchens, and bathrooms, as well as working freelance as a pottery designer and decorator.
Chelsea Pottery 1958-1964 where Christina made and designed Pottery.
1964-1980 Christina had a Pottery in Highgate where she lived with her husband the sculptor Jan Lubelski and had two children.
1980-1985 she had a pottery in Leiston Suffolk where she completed her mural of Shakespeare's Stratford.
1985-1990 Christina lived in Spain, Gozo, and Cambridge where she explored painting, drawing, print-making and lithography.
1990- she spilt her time between London and her beloved Norfolk, where she continues to draw and painting in oils and watercolours.
Christina's Ceramics have been shown at The Design Centre London and during the 1970s & 80s, she sold in Harrods and Heal's.
Commissions
1962 Commission for Jackie Kennedy ceramic bowl to commemorate her trip earlier that year to the Taj Mahal.
In 1971 Christina designed a series of nine tiles, dust pressed red earthenware with painted and sgraffito decoration in colour glazes which were in production until 1985. Some of these can be found in the V&A permanent collection.
1981 Shakespeare Birthplace Trust – Mural of Shakespeare`s Stratford
Christina's tiles caught the eye of architect Laurence Williams when he was working with the Birthplace Trust's director, Levi Fox, on the extension to the Shakespeare Centre.  Williams thought that the tiles might be the ideal medium to give colour and special interest to part of the new Visitors' Centre.
Later in the 1980s she made a similar panel illustrating the production methods of cider for a company in Hereford.
1995 Christina illustrated Lobster at Littlehampton, an Edwardian childhood the childhood memoirs of Clare Sheppard.
2015 Christina wrote an article for The Oldie Magazine about her memories of 'Hilaire Beloc' at Oxford and at his 80th Birthday party.
Christina's work is in the Victoria and Albert Museum, has been sold in Japan and New York and has been used to advertise businesses including BMW, as well as being collected Worldwide. She also appears in 20th Century Decorative British Tiles by Christoph Blanchett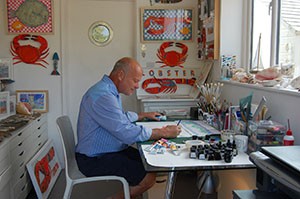 Andrew Ruffhead BA (Hons) Dip CSAD, MA FCSD
21st July - 4th September 2017
Andrew studied Painting & Printmaking at Brighton Polytechnic, and then Printed Textile Design at the Central School of Art & Design. He has worked for many years as a textile designer producing fashion, furnishing fabrics and wallpapers for companies such as Osborne & Little, Designers Guild and Calvin Klein.
Andrew has taught at Chelsea School of Art, Worthing, Loughborough College of Art & Design, and was Head of the Printed Textile Department at the University of East London for fifteen years until 2005. He has also worked for the National Institute for Design in Ahmedabad (India) NIFT ( National Institute of Fashion Technology) based in New Delhi, and The National Institute for Design ( NID) in Ahmedabad.
Andrew is a Fellow of the Chartered Society of Designers, and a former chair of the Fashion Textile Discipline Group. He continues to exhibit his work in many galleries in the UK, and in 2006 he was made a National Lottery Artist, and was commissioned to produce a large lino-print, which is on display in the foyer of the Cromer Museum in Norfolk. He had one of his cyanotype prints Cactus Corner on show at the Royal Academy Summer Exhibition in 2011.
Andrew moved to Burnham Market in 2006, and opened his studio/gallery Fish & Ships Coastal Art producing prints, quirky coastal maps, cards, cyanotype photography, pen, ink and gouache drawings and paintings, and lobsters, crabs, whales, prawns and fish made from driftwood and pieces of old marsh and beach-found boats. He is particularly interested in recycling found objects, and as well as work available to purchase in the gallery and from his website, he is very happy working to commission.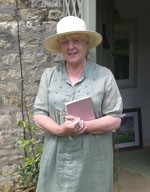 Pat Bustin
23rd March - 1st May 2017
Pat has been painting her expressionist landscapes of North Norfolk for a number of years. Based in Burnham Deepdale and in Lowick, Northants, Pat paints in acrylics, pastels and oils using brush strokes to create movement and colour boldly for the emotion of the moment. Most of Pat's work is carried out plein air. Her studio work is based on detailed drawings and initial sketches during walks along the Norfolk coast using a wide range of media, large canvases and enlivening colour.
07792 9260071          patbustin@btinternet.com          www.patbustin.co.uk